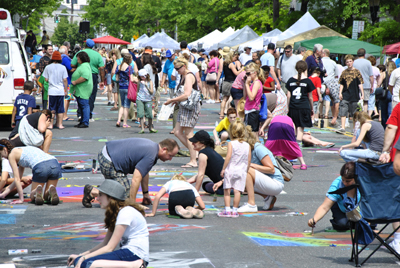 East End Arts Presents
Annual Community Mosaic Street Painting Festival
Sunday, May 28, 2017, 12 – 5 PM
Rain Date: Monday, May 29, 2017, 2 – 5 PM
Admission is FREE!
Location: Downtown Riverhead on East Main Street between Roanoke Avenue and East Avenue and on the grounds of East End Arts located at 133 E. Main Street, Riverhead NY
A Memorial Day Weekend tradition where families and friends enjoy the creative spirit together! Join all the artists, musicians, and lovers of the arts, young and old, who gather on the grounds of East End Arts and along the Peconic River for this day-long celebration of the arts, centering around the Street Painting Festival, fashioned after the Italian street painters "I Madonnari", a street chalk art form dating back to the 16th century, as well as activities and entertainment for everyone. Street painting squares sponsored by businesses, families, and individuals are used as a canvas for inspirations in chalk.
Fun For The Whole Family
    Street Painting
    Fine Arts & Crafts Fair
    Live Music
    Gourmet Food Trucks
    Drumming
    Dance
    Theatre
    Children's Activities
    And More…!
Street painters over 14 years of age are encouraged to register in advance. Pre-registered street painters will be matched with a sponsored square on a first-come-first-serve basis. Street painting squares may also be purchased for $20 on the day of the event. Materials included.
Lead Sponsor: Bridgehampton National Bank
For more information, visit http://www.eastendarts.org/programs/community-mosaic.html
OR contact East End Arts at 631-727-0900, info@eastendarts.org